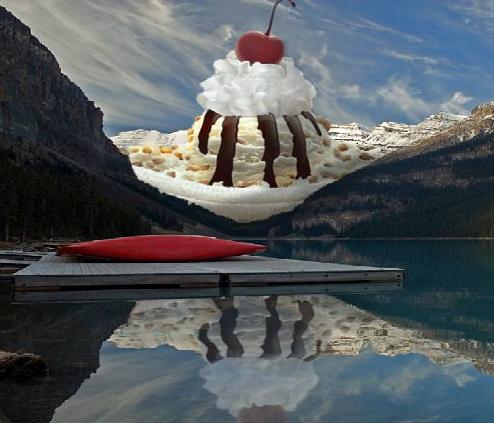 It might be a giant maraschino cherry,
or it might be a mirage...
Credit: ibiblio.org
In a discussion on an ecology listserv on the poverty surrounding young Ph.D.s and adjuncts
, a full professor of economics comments (emphases mine):
I haven't been able to follow the entire thread but one thing I draw from what I have read is that it is incumbent on those of us who work with students at all stages in their academic careers to also advise them to consider the job market in their chosen disciplines. In so doing, they make more informed decision and they study with eyes open wide on the possibilities open to them at the next stage in their life and career journey. Much easier said than done.
It reminds me of two PhD markets in recent years. One, where hundreds of applicants vied for the reported 2 or 3 job openings that year and second the hundreds of positions open for the 2 or 3 PhD candidates graduating each year. Hopefully we advise our students of the job market realities.
One place a student might look for this information can be found here.
http://www.bls.gov/ooh/occupation-finder.htm
Could someone please tell me of this field where there are more than 200 open positions for the 2-3 Ph.D. candidates graduating each year? (For that matter, I challenge someone to go through
recent Survey of Earned Doctorates data
to find the field that is only graduating 2-3 people a year? The lowest I saw for 2012 was 5, in ceramic sciences engineering, which, gee, seems to be a pretty practical field to me. Agriculture seems to be a relatively small field.) "Hundreds of positions"? Someone?
I believe that there are indeed fields where openings go unfilled and they want for students -- to my mind, these fields are rare or have some sort of structural problem that is not the fault of students or faculty. (My (very limited) understanding of the nursing field is that it is difficult to find nursing school instructors, because it doesn't pay as well as, um, being a working nurse. Perhaps I am wrong.)
I would like to believe that the Big Rock Candy Mountain of faculty positions (or, for that matter, other positions) exists, but I have yet to find it. Readers?